"ESTONIA"

Here are my Estonian coins, many thanks to Rasmus Runne for these excellent coins from his country that has been independent since 1991 for the 3rd time in its long history.
Please take time to enjoy these coins they are among my personal favorites.
All coins marked (unc) are in a mint pack issued by the Bank of Estonia.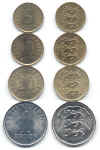 5 Senti
1991~2
1992~1(unc)
1995~1
10 Senti
1992~1(unc)
2002~1
20 Senti
1992~1(unc)
1999~1
2003~1
50 Senti
1992~1(unc)
1992~1
1 Kroon
1992~1(unc)
2001~3
5 Krooni
1993~2
1994~2